We deliver durable and dependable quality Pipes, Tubes, Sheets, Rods, Hex Head Bolt, Fasteners Fitting, Button Head Screw, Stainless Steel Round Tube, Bars and many other products.
About Us
In industry from past 26 years, we, Paxal Steels, have become a renowned name of the pipes, tubes, flanges and industrial fittings business line. We started our operations with the clear goal to provide superior quality products to customers, which they look for in return of their hard earned money. The practices that we follow to run business are dedicated towards ensuring high satisfaction of customers. Today, we hold a strong position in the market among top manufacturers, traders and distributors of Stainless Steel Tube, Stainless Steel Round Tube, Stainless Steel Boiler Tube, Flange Nut, Polished Copper Pipe, Copper Flat Bar, Duplex Pipe, Brass Pipe and many other products. Each of the pieces which belong to our product-line is assured of superior quality and brings to us repeated orders from customers across the market.
We are proud to be associated with Kundan Industries Ltd. as an authorized distributor for selling their superior quality products. The associated company shares the same quality related ideology like us. By having them as our partner, we have expanded our product-line even more.
Resources We Have
Our company has maintained a huge portfolio of products. Each product is unmatched in terms of quality, rates and specifications. We have been able to maintain such an impressive portfolio due to support of resources that we have. A strong team of multi-talented experts supports us day and night and enables our company in accomplishing even the toughest tasks with ease. We have adequate facilities for products making, quality checking, storage and many other trade works. Further, we periodically invest on upgrading skills of our team members and facilities of our premises to serve customers in an even better manner.
Why Us?
Our company possesses several qualities that make us reliable and better than other business units dealing in Flange Nut, Polished Copper Pipe, Stainless Steel Tube, Brass Pipe, Aluminum Polished Sheet and many other products. Here, we are citing down some of our qualities:
We conduct strict tests on quality of our products and offer the best range.
We regularly conduct researches to further improve our manufacturing techniques and product-line.
We pay stress on taking feedback and having improvements in processes, accordingly.
We never take high prices for providing our range; rather we keep marginal profits.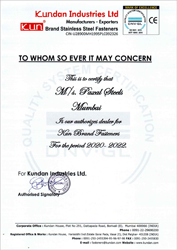 Get in touch with us